Description
Take advantage of everything nature has to offer
If your health could use a good boost, CBD oil 2.0 is the perfect choice. Our improved formula not only enhances the well-known effect of CBD, but offers a complete health experience thanks to the higher concentrations of other essential cannabinoids. These natural elements work together seamlessly to support your body from head to toe.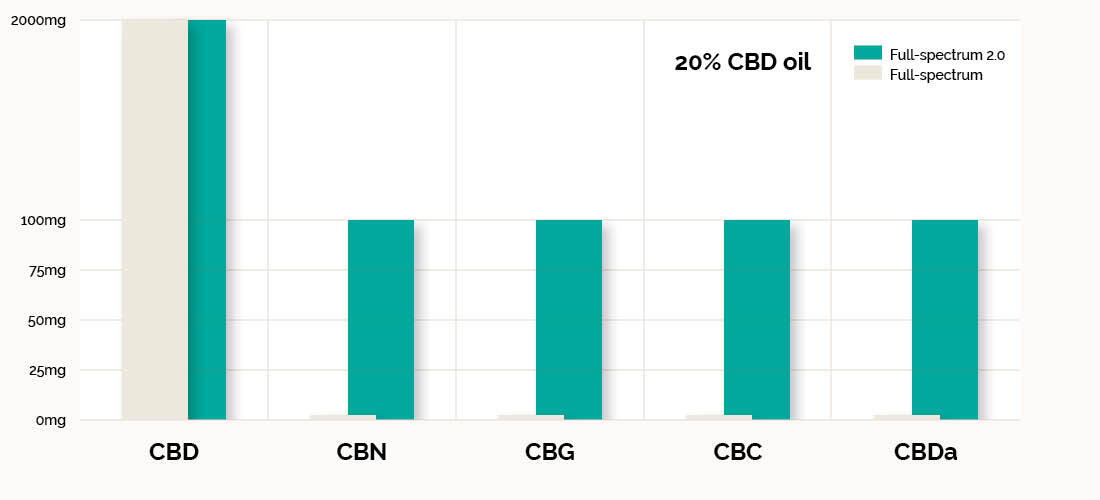 The true potential of cannabinoids lies in their ability to work together. This unique phenomenon is also known as the entourage effect. Our 2.0 formula is therefore the next logical step we take with our CBD products. The greatly increased concentrations of various essential cannabinoids, such as CBG, CBC, CBN and CBDA, improve the effect of CBD on body and mind.
With these significant and constant concentrations of supporting cannabinoids, you can get the most out of the entourage effect. For a natural boost, backed by independent testing, look no further than this super advanced CBD oil!
CBD Oil 2.0 is our most advanced formula to date and will meet all your health needs!
How do you use CBD Oil 2.0 (2000mg) from Cibdol?
Start with 3-4 drops on or under the tongue. For best results, we recommend repeating this up to three times a day.
CBD Oil 2.0 from Cibdol is perishable. Therefore, keep the bottle in a cool, dry place after opening.